Cost of orthodontic treatment and payment modalities
The cost of an orthodontic treatment depends on many factors, the main ones being the complexity of the case, the patient's age, the anticipated treatment duration and the type of appliances used to make the corrections. At your first consultation visit, you will have an evaluation of the treatment cost and you will be able to discuss it with us. Treatment cost will be confirmed in writing before the beginning of treatment. We will be pleased to review with you the various payment and financing options we offer to help you meet your budget.
There may also be "geographical" variations in the orthodontic treatment fee depending where you live and are treated (city, province, country).
Orthodontic insurance coverage
In most dental insurance contracts, orthodontic coverage is frequently considered a separate benefit. If you have a dental insurance plan, you must verify that benefits are payable for orthodontic care. If so, coverage is usually at the 50% level with, most of the time, a maximum amount allowed.
To determine your orthodontic coverage, you must communicate with your insurance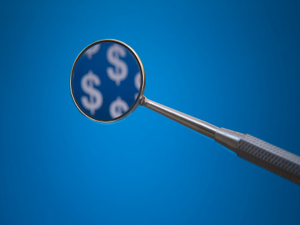 company or the plan administrator where you work and ask the following questions:
Does the plan cover orthodontic treatment (braces)?
If so, at what percentage?
Are there any limitations to this coverage (age, maximum amount covered, etc.)?
Note: When you talk to a representative of your insurance company, make sure to obtain their name and coordinates. This can facilitate future communications with your insurance carrier.
Once you have established that you have orthodontic coverage, and after financial arrangements have been made with our office, we will complete a Certified Specialist in Orthodontics Standard Information Form approved by the Canadian Association of Orthodontists.
You must send this form as soon as possible to your insurance company.

The carrier will then write directly to you to inform you about the coverage you are entitled to.

When you make a payment to our office, you will be provided with a receipt that you must send to your insurance company along with your Dental Claim Forms (filled in by the subscriber).

The carrier will then re-reimburse you directly.
Points to remember:

Insurance companies do not pay orthodontists directly. Assigned payment are issued to the benificiaries (patients).
It is not necessary for the orthodontist to fill in the Dental Claim Form as no dental codes are required for orthodontic coverage.
Only one Certified Specialist in Orthodontics Standard Information Form is necessary to predetermine benefits and, once approved, no other insurance forms will be necessary from the orthodontic office.
Co-ordination of benefits:

In a situation where two parties have orthodontic coverage, the person with the earlier birthdate in the year is considered the first or primary subscriber (e.g. January birthdate vs. July).

The primary subscriber must send the documents as outlined above and then sends the reply from the primary carrier to the secondary carrier for adjudication.
To learn more about orthodontic insurance coverage and submitting insurance claims to your carrier visit the Canadian Association of Orthodontists website.
Updated: 2016-02-14